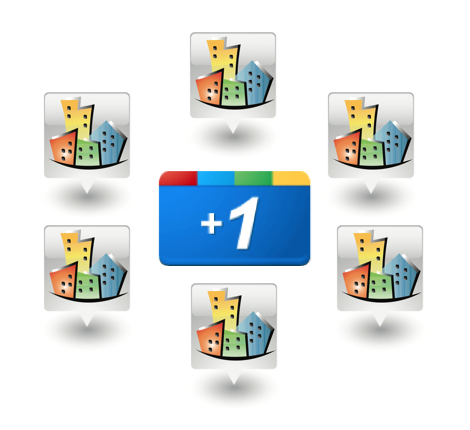 29 Dec

Google +1 for Business: Maximizing Your Social Strategy

The present trend in internet is to make it more personalized, especially when it comes to search results. Showing general search results is not effective and the idea of personalized search results sounds very interesting to everyone. Personalized search results means showing the results to a search query based on person's own previous recommendations or perhaps recommendations from people in his or her social circle when they made the same or similar search. The idea has been taken from social sites like Facebook where people are found to be interested in items or pages "Liked" by the contacts.

If we are not feeling good and want to see a doctor, our first preference will be to ask a relative, a friend or someone we know about a good doctor. Based on his or her recommendation, we will choose our doctor. The same will be our strategy if we want to buy something like a dress, shoes, a musical instrument or any other thing. We will go to the mall that our friend or relative went to in order to buy a thing that we liked. Hence, we find that recommendations from our family, friends and social circle are the best form of business promotion or advertisement.

The idea of this personal recommendation is taken from the day to day life and put into the cyber world now. All of us make tens, if not hundreds, of searches everyday on the internet. Some of them are related to our work and the others to our interest. When we search, some links are shown to us but we are in a fix as to which one we should choose from the thousands of pages that are shown as a result. No doubt that the search engine sorts out the most visited links on the top for us but it does not always guarantee that it is also the most relevant to our search.

On the contrary we have many people in our social circle that are related  to our work as well as sharing some of our interests and it is very likely that they have or they will make a similar search. So a link recommended by them will guarantee us that it is much related to the thing that we were searching for, hence solving our problem to prioritize items on our own. This is the whole idea behind Google +1 button.

All the businessmen in the world want to advertise their businesses in order to increase their number of customers. These businesses also have an internet presence nowadays. Google +1 for a business provides an excellent opportunity for these businessmen to improve their business by personal recommendations. For those whose business is to earn from the traffic on their website or the number of clicks on their page or certain links, Google +1 also makes their earning much more easier now.
Imagine you initiate a new business and decide to put a Google +1 button on your business page or link…
Once you click the +1 button, all the people in your circle will get your recommendation, which increases their chances of buying your product or clicking your link. Google +1 for business also helps improve the overall rating of your business website or link. As you probably know Google is the most used search engine. The greater the number of +1 hits on your page or link, the more the chance is that Google will consider it more related to that search category and will show you higher in the search results every time a related search is made.
The great thing about Google +1 is that it does not only work with Google, rather it works with all the search engines. Google +1 for business helps your page or link to appear higher on the search results of every search engine, thus increasing the traffic on your page, hits on your links and as a result, greater profit for you.
Google is also planning to let the Google +1 recommendations appear to all your Facebook and twitter friends in the future.
For example they will be able like to see when you hit the "Like" button on Facebook or "Follow" button on twitter. Once these results become visible to your friends, they will be even more effective as an advertisement of your business, product, links or whatever it is that you want the world to see.
Google +1 has opened up great avenues of personalized search results on the internet which is beneficial for both the customers and the businesses. Customers are more likely to get what they are searching for and businesses are sure to benefit from a personal recommendation based promotion of their businesses. Google +1 for business is a win-win formula for all.
Google Resource to get started with your Business Google +1 Page – Click Here